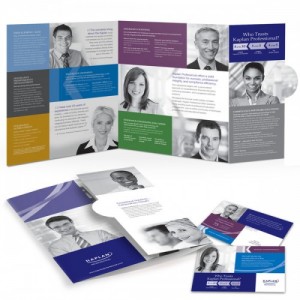 Print marketing and advertising are one of the many secret keys to business success. No matter if you're running a small business from your home, or a global corporation, you'll always have a business need high quality brochures and postcards.
These marketing pieces demonstrate your companies "brand" image and offer a clear way to communicate information about the products and services you provide.
They're an important part of your sales process and in keeping with that idea, you should make sure your brochures or post cards speak on behalf of your business to anyone who is willing to take the time to listen to your message.
Plus, when you present your materials creatively and originally, there's a higher chance your audience will not only notice your brochure, but also pass it around to more prospective clients! Naturally, the more exposure your materials and company get, the bigger your business will grow.
We offer the following types of brochures and postcards – just to name a few – all with ranging paper and card stock options from economy to ultra-premium:
• 3 Panel Brochures
• Tri-fold or Z-fold
• Standard size(11×8.5 open) & giant size(17x11open)
• 4 Panel Brochures
• Parallel or accordian Fold
• Standard size (14 x 8.5 open)
• Half Fold Brochures
• Small 11×8.5 open, folds to 5.5×8.5
• Larger 17x11open, folds to 8.5×11
• Postcards-great for direct mail
• Standard 4×6, large 5.5×8.5, giant 6×11
• Custom sizes available
Oh, and if you're struggling with layout and design options, our graphic design team can help with that too. Yep, It's that easy.
If you'd like to speak with one of our representatives about how we can help you, Click Here >>