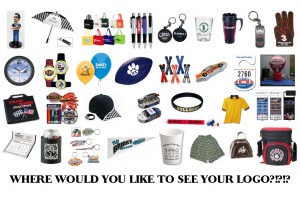 The feel-good value of a promotional gift, for the recipient, only adds to the visibility it can bring to the brand and the logo of the advertiser.
Let's face it, everyone loves getting free stuff! This makes sure that they use the product more often, ensuring that the advertiser's brand and logo get "out there" and visible more often.
And while it seems like selecting and customizing promotional items can be a daunting task, we're here to help you every step of the way. Our team knows the promotional products industry inside-out and our goal is to help you succeed with every piece of logo merchandise you order.
With so many items to choose from, we're sure to have something to fit your needs as well as your budget.
Plus, we add new promotional items daily so be sure to bookmark this site and check back often for new promo gifts and customized ideas.
This list outlines just a few of the miscellaneous items we offer. You name it, we print it!
• Automotive
• Candy/Snacks
• Computer Accessories
• Eco-Friendly
• Food/Beverage
• Fun and Games
• Golf Items
• Key Tags
• Kitchen/Home
• Mugs/Drink Ware
• Sports/Outdoor
• Stress Balls
• Tools/Hardware
• Travel Items
• Invitations
• Kozzies
If you'd like to speak with one of our representatives about how we can help you, Click Here >>