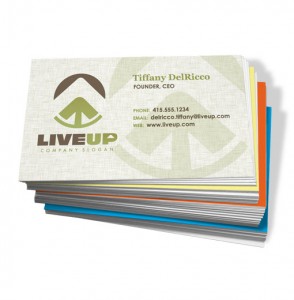 Make a bold statement and lasting first impression with clients. A business card is a businessperson's best friend, the most valuable marketing tool and the first essential element to becoming UNFORGETTABLE.
It's the first thing new clients see when they meet you and the most important element of your visual marketing identity. It states who you are, conveys what you are and shows people how you operate.
In essence, it's a direct reflection of you.
We specialize in high-quality color business cards designed to do one thing and one thing only.
Bring you more business.
We offer the hottest full color digital printing capabilities with custom features like:
• Vertical or horizontal layouts
• Front and back side printing
• Extra heavy card stock
• Fold over "tent" style business cards
Our graphic design team can help with concept and layout. It's that easy.
Need an estimate? Simply fill out the information below and we'll get back to you within 24 hours. We promise!
If you'd like to speak with one of our representatives about how we can help you, Click Here >>